Sponsor A Child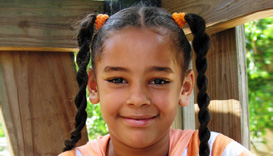 Sponsor Nathaly
for just $39 a month!
You have selected to give this gift monthly. Your first gift of $39 will be made immediately. After your information is confirmed, subsequent gifts will be charged on or around the first business day of each month until canceled. If you wish to cancel or modify your gift at any time, please call us at 1-800-543-7330.
Nathaly
Palo Blanco, Dominican Republic, 8 years old
Nathaly enjoys going to school and loves all of her activities including Bible time, crafts, painting, hands on lessons and group activities. She is a very attentive and a loving child. Nathaly is a delight to have in our program. (PB)
Didn't find the child you were searching for?
Try browsing other children who are Girls who are in the 6 to 12 age range.
For more information about becoming a Kids Alive Child Sponsor, please complete the form below. Our Sponsorship Coordinator will contact you to answer any questions you may have, or help you find a child that best meets your criteria for sponsorship. Many more children are available for sponsorship than are currently included on the Kids Alive website. If you are interested in a specific age, gender, or country not listed on the web page, please contact our office directly. Because of the extensive care Kids Alive provides our children and our desire to keep Child Sponsorship affordable for every family, more than one sponsor supports each child.
As a Kids Alive Child Sponsor, you will receive a copy of your child's history and a current photo. We encourage you to write to your child; your sponsored child will correspond with you three times a year. Additionally, you will receive an annual update giving details about the progress your child has made throughout the year. Please note that we have a "No Package" policy. If you would like to give your child a special gift on his/her birthday or on special holidays, we suggest you send a contribution of $10 - $25 to the Kids Alive home office. Your "gift" will be forwarded to your child's house parent or teacher and your child's birthday will be celebrated in a special way; perhaps with a hand-picked, personalized gift and/or a birthday party. This gift-giving method reduces shipping costs and eliminates the possibility of a mailed gift getting lost or stolen.
If you wish to activate your sponsorship by writing a check, using our automated bank account payment or credit card (not on-line), or to learn more about Kids Alive Child Sponsorship, please complete and submit this form or call 1-800-KIDS-330. Kids Alive will not rent, sell, or share your confidential contact information.