CONNECT WITH YOUR CHILD ANY TIME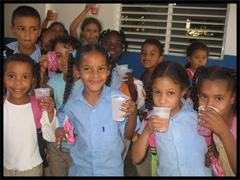 Throughout the year, like you, your sponsored child or children look forward to special celebrations – like birthdays and Holidays.
Easter is one of those special days and is a good time to encourage your child in his or her spiritual walk.
And, of course, the joy and love you give by remembering your child(ren) on their Birthday is absolutely priceless!
You can mail cards for your sponsored child to:
Kids Alive International USA
2507 Cumberland Drive
Valparaiso, IN 46383-2503
New! This year you can email your child a Birthday greeting by using the form below. Simply fill in the blanks and your child will receive your special message imprinted on a suitable card (see sample) in just a few weeks.
Each month, our homes and classrooms celebrate children's birthdays with treats and a party. Your Treat Fund gift today will not only bless your child(ren) but also help to celebrate the birthdays of unsponsored children so every child is remembered and feels special. Your generosity helps make that possible - thank you!
If you would like to give a Treat Fund gift and also send a greeting, please fill out the greeting information below and submit. You will then be directed back to this page to make a gift. Thank you!
(If you sponsor more than one child, please indicate which child your gift is for when prompted, "How did you hear about Kids Alive?" during the check-out process.)
E-Mail your child today!
*Required
Important things to note:
For security reasons, Kids Alive has a "no package" policy. We are unable to forward packages from our office.

To ensure timely delivery of your correspondence, please include your child's name and your child's ID number in each letter or email.
Thank you for taking an interest in your child's life. They will certainly enjoy hearing from you!